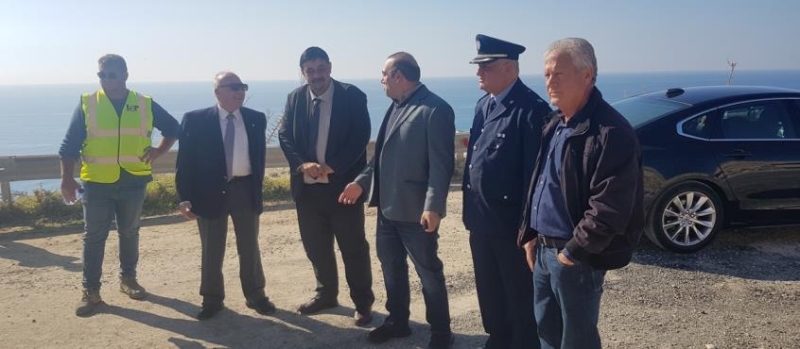 The old Limassol – Paphos road past Petra tou Romiou was opened to traffic today by the Minister of Transport, Communications and Works Yiannis Karousos. Mr. Karousos stated that it was a technically quite difficult project that was quite troublesome, noting however that the Department of Public Works in cooperation with the contractor solved all the problems.
He added that all the necessary changes were made and today it is being delivered in circulation this useful road network for the province of Paphos but also for Limassol.
He mentioned that the specific road network has an important role to play for tourism.
According to the Minister of Transport, the cost of the project amounts to 1,400,000 euros including VAT and the Department of Public Works is proceeding with the next phase of the road network. He is preparing, he said, the documents of the tenders with the aim that in the coming months the tender of 4 million euros will be announced to upgrade and repair the next part of this important road network.
Asked about the doubling of the cost due to the difficulties, Mr. Karousos acknowledged that indeed the cost doubled. "When the contractor's work started, there were issues, which were unpredictable and dangerous, and the project was stopped," he said, adding that a new study was subsequently done, with more support issues, and the issue was resolved with an updated study. He also mentioned that the necessary changes in the budget have been made, and today the road is being handed over to traffic. He also said that they are proceeding to the next phase of the road network, with ;budget 4 m. euros in a few months, noting that this offer will also be announced.
In relation to the spectator seats, Mr. Karousos said that the so-called view points must be established whether we are a government or a local beginning, as he noted, it is what we give to our visitors, a local network that can combine the points of view.
On the part of the Member of Parliament of DIKO Chrysanthos Savvidis, who was present at the delivery, he described the day for Paphos because it opens a very important road for tourism that has suffered for many years.
Mr. Savvidis mentioned that the four promises made by the Minister of Transport, Communications and Works for the roads Natas, Iolou, Druseias and Petras tou Romiou have been observed.