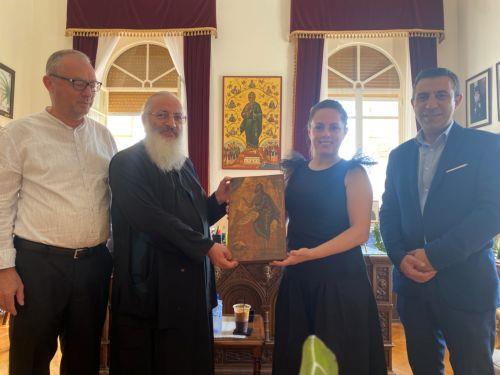 An icon of Saint John the Baptist was handed over to the Church, which was brought to the United Kingdom in 1974
Download the CYPRUS TIMES APP! HERE for Android and HERE for iOS
The Bishop of Karpasia, Christophoros, received on Thursday during a ceremony at the Holy Archdiocese of Cyprus, an icon of Saint John the Baptist, which was brought from Cyprus to the United Kingdom in 1974 by a Royal Air Force pilot.
The announcement states that the picture was handed over to Bishop Christophoros by the art historian, Maria Pafiti, who represented the anonymous donor (former owner), as well as Marc-André Renold, professor of Art Law and Cultural Heritage at the University of Geneva and holder of the chair of UNESCO in the Law of International Cultural Heritage, with whom he cooperated for the repatriation of this image.
Present at the handover were the secretary of the archbishop's office, Michalis Pavlou, the deacon Michalis Nikolaou, the Byzantinologist Christodoulos Hatzichristodoulou and Dimos Dimos, financial director of the Holy Archdiocese of Cyprus.
The arrangement for the return of the icon to Cyprus and the its handover by the English holder took place at a ceremony held at the Academy of International Humanitarian Law and Human Rights in Geneva last February. The image was transferred to Cyprus recently.