Mr. Petros Xenophontos said in his statements that the visit was made to "see the producers, to hear from them the problems"
< img class="aligncenter" src="/media-library/2023/05/a7000c2e09bee21599934d6d99679ebd.jpg" alt="Υπ. ΓεωργΙασ: Η κ&upsilon ;βΕρνηση θα στηρΙξει τους γεωργ&omicron ;yς" />
Photos from KYPE
The government is next to the farmers and will support them, said today the Minister of Agriculture, Rural Development and Environment, Petros Xenophontos, after the tour he made today to potato plantations in Kokkinochoria.>
p>
In his statements, the Minister stated that the visit was made to "see the producers, to hear from them the problems, possibly the adversities they face, but also the production. I see that there is a good production and we will be by their side", he said, and added that "we want to support and show with our presence that we support the primary sector of the Cypriot economy which is our production".
Asked to state what problems exist, Mr. Xenophontos repeated that "we stand by the farmers and will support them" and noted that officials of the Department of Agriculture had visited the areas on April 1st to see the damage caused by the frost. in order to give compensation.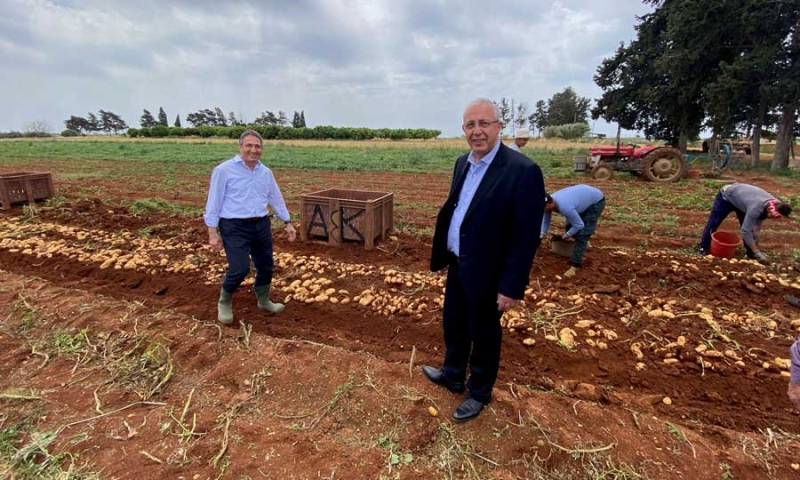 For his part, Andreas Karyos, the representative of the potato producers, said that "there are too many problems in potato cultivation. Unfortunately we are dealing with weather conditions, frosts, winds and we have a lot of potatoes left in the field".
He added that "the framework that captures the damage done by various external problems is impossible and needs to be fixed. After three years of its implementation, we saw its weaknesses and we have to find solutions", he said, and noted that this is among the three issues that will be discussed "with the Minister of Agriculture in a meeting that will take place on May 25. We will go organized to explain the problems and help the producers", he added.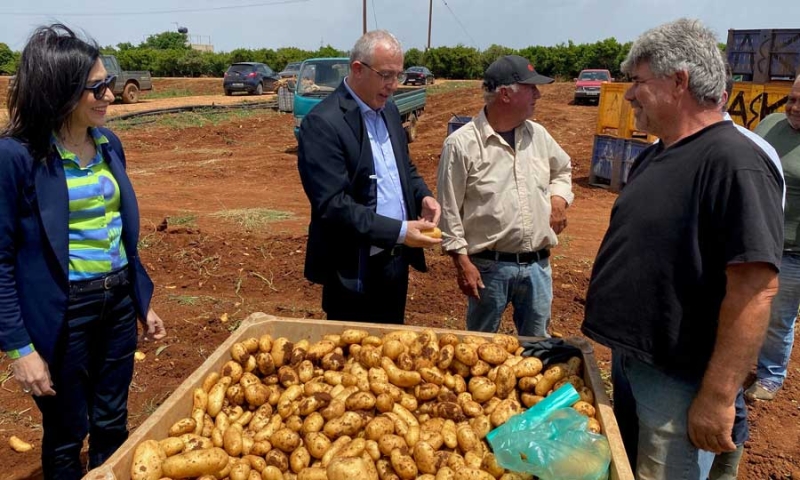 He also mentioned that "the average production of potatoes in this period is 4.5 tons per decade and the damage is recorded at three tons. The producer who exceeds three tons per penny won't get anything," he said, and explained that "even from 3 tons per penny, a loss cannot be written because it must be over 30%, which cannot be done with only the three tons".
According to Mr. Karios, "it is difficult for potato producers to survive with the costs that exist in oil and the rest. We want support", he said, and he expressed satisfaction "for the statement of the Minister of Agriculture that he will be by our side". , who made some decisions that will hurt potato farming because they will reduce potato farming, which is a product that is exported abroad by 80%. Many producers will not be able to plant potatoes next year", he said, and added that "another problem we face is the extra cost, due to the war and the pandemic which we cannot bear all of it".