Nea Salamina converted the 3-1 of the first half into 3-3 and left Limassol with the point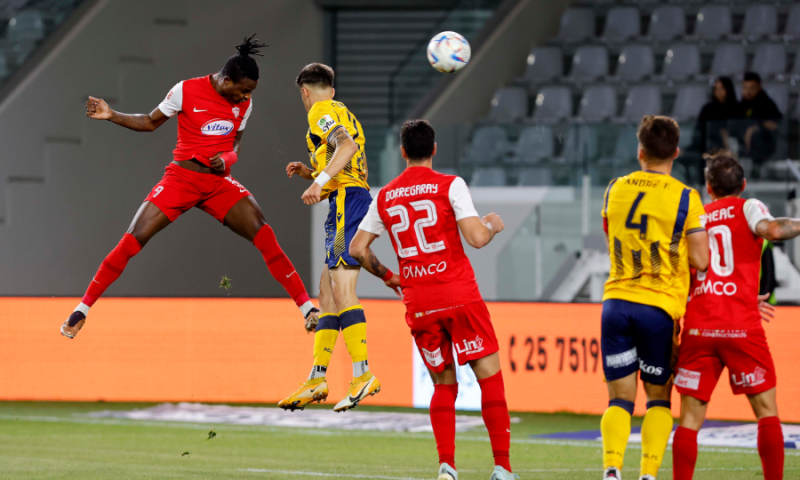 watch video
It became her… head! AEL and Nea Salamina drew 3-3 with the four goals coming from headers. The Limassol team was winning 3-1 at half-time, but the "red and whites" went into the replay and equalized before the 60th minute while missing great opportunities to turn the match around.
First Half
The pace was quite slow from the first minutes, with both teams playing, as expected, without much appetite and energy.
Nevertheless, the home team opened the scoring in the 12th minute with Degoest's header following a free kick by Mendoza. Initially, the assistant raised the flag for offside, but after an examination of the phase by VAR, the goal counted as normal.
Nea Salamina tried to turn up the heat and find the equalizing goal. In the 22nd minute, following a Boteak corner, Doregarai got a header but sent the ball straight into the arms of Kyriakou.
Two minutes later, Boteak attempted a long shot and saw the ball go just over the bar. the crossbar.
What he didn't do in the 22nd minute, Doregarai did in the 26th minute. The forward of New Salamina equalized with a header after a corner, again from Boteac.
The hosts took the lead again with Teixeira's header in the 33rd minute after a corner kick. A minute later, Mendojevic won a penalty after being tripped by Adonis. The execution was undertaken by Milinceanou who was accurate making it 3-1 in the 36th minute.
In the remaining minutes nothing changed with 3-1 remaining until the end of the first half.
< p>Second Half
With the good morning in the replay, New Salamina reduced to 3-2 with Doregarai in the 47th minute. Tzalma had a huge responsibility in the goal as he made a fatal mistake and did not move away, as a result of which he served a ready-made goal to the forward of the Varosio team who slotted into an empty net.
The "red and whites" came close to equalizing on two occasions with Datkovic and Klimovic in 51' and 56' respectively. Both tried to score with a header but the ball went wide.
And since both of them failed, Chiko succeeded one minute after entering the race. With a header from close range after a ball from Leuko, he made it 3-3 in the 59th minute.
The second half was essentially an offensive monologue for New Salamina. AEL was harmless despite having possession. Christos Charalambous' team failed to create any good scoring chances in the replay and combined with some mistakes at the back saw the lead they had at the break go to waste.
In the 84th minute, the visitors came within a breath of a total upset as Degoest drove the ball over the line after a Datkovic header.
In the remaining minutes nothing changed with 3-3 remaining until the end. . Despite the spectacle, there was no winner, with both teams settling for one point.
THE IDENTITY OF THE MATCH
AEL (Charalambous ): Kyriakou, Franzis, Teixeira, Mentojevic (56' Papafotis), Davor, Makris (58' Hasa), Andreou (68' Chernich), Milinceanou (68' Berahino), Mendoza (81' Kolias), Tzalma , Degoest
New Salamina (Poursaitidis): Melissas, Malekkidis (37' Nikolaou), Adonis, Datkovic, Miguelito (45' Klimovic), Mandzek (81' Florian), Koumouris (45' Chico), Carlitos, Boteac (73' Felipe), Doregarai, Leuko
Scorers: 12' Degoest, 33' Teixeira, 36' Milinceanu/26', 47 'Doregarai, 59' Chico
Yellow cards: 48' Davor/-
Dismissals: -/-
Referee: Marios Christoforou
VAR: Chrysovalantis Theoulis