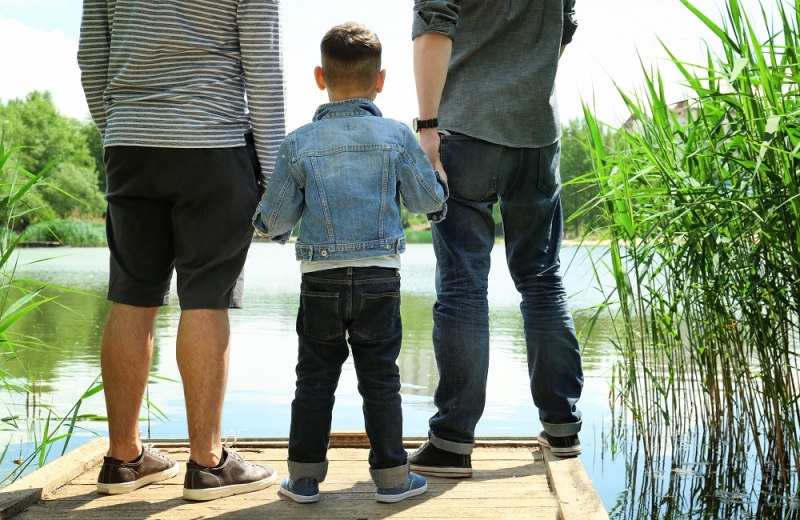 We live in a country where being gay means you are not a good parent, while people who are criminals can. This was the first conversation that Stefanos told me. Stefanos is 26 years old and from the age of 8 he grows up with two adoptive fathers. He preferred not to reveal his identity and asked to use only his first name. Unfortunately we live in a society which, as he explains, has not been treated in the best way, so he wanted to remain anonymous. After I promised him that no one would know who he was, he agreed and so we arranged to meet for coffee. There in the conversation, we said a lot. He spoke to me about what it is like to raise a child with gay parents, about the stereotypes that still exist today, while he also confessed to me his big complaint, which is nothing more than the need to modernize the legislation that exists in Cyprus around adoptions.
"I grew up with love"
The first question that came to my mind, thinking that I would talk to a person like Stefanos, is whether the fear of some people that homosexual children "emerge" from homosexual parents is true. He laughed when he heard the question and then revealed to me that this is something he is often asked. After explaining to me that this is not the case, he pointed out that the fact that he grew up in a house where mom and dad did not exist in their classic sense, does not mean that he is different from any other child who grows up with two parents by his side. they love like nothing else in the world. "I grew up surrounded by love", were his exact words, noting that he is grateful that these two wonderful people were found on his way.
The first acquaintance >
Stefanos was born in Sweden. His mother, who was a drug addict, left him to his father after birth to raise him, and since then no one knows where he is and what he is doing. His father beat him, but he does not remember anything because he was too young. When he was just four years old he entered an orphanage, as his father had been arrested and then convicted of murder. From the age of four up to seven he grew up in an orphanage. He does not remember much from that period, except of course the day he met his parents. It was in 2003, when the Swedish government decided to allow homosexuals to adopt children and participate in the adoption program. In fact, Stefanos was one of the first children given to a gay couple. The first acquaintance took place in the garden of the orphanage, with Stefanos stating that from the first moment he loved both his parents so much that it was difficult for him to separate from them. "I remember the time when the first visit ended, as if it were yesterday. "I made them promise that they would come again and it was there that I realized that these people came into my life to stay," Stefanos said, obviously excited.
Return to Cyprus
A year after the adoption, Stefanos's parents proceeded with the adoption and a few months later they were officially a family. We became a family from the first moment, notes Stefanos, to add that three months after the adoption process was completed, his parents made the decision to return to Cyprus. One of the two parents is from Cyprus and the other from Greece. They met in Sweden when they were students and always discussed how much they wanted to start a family and live in Cyprus at some point. The option to return to Greece did not exist because, according to Stefanos, the relatives from there never accepted his father's sexual preferences and to this day have no contact, neither with him nor with his child. However, things were not much better with the Cypriot relatives, as some took several years to accept that two homosexuals can become parents. In fact, as Stefanos mentioned, when they came to Cyprus they spent many years visiting the house of their grandparents, as the former did not accept that his son was gay and that he was raising a child with his partner.
Teasing
The biggest problem that Stefanos had to face was not so much the behavior of his relatives as the behavior of his classmates. When he came to Cyprus he was not 9 years old, and according to him his Greek was not the best. He knew how to write, but had difficulty expressing himself, which made it difficult for him to communicate with the other students. At first no one knew who his parents were, however the children in primary school had many questions, with Stefanos explaining how easily he revealed to them that he did not have a mom and dad, but two dads. For him it was something so normal, that he could not understand why the rest of the world was "sour" with them. In elementary school he did not face any particular problems, with him attributing this fact to the fact that he attended a private school. The problems started when he went to public high school. There he was the "problematic" of the class who always sat at the last desk without talking to anyone. Some children bothered him just because his parents were gay. My big complaint was and remains that they did not make a single effort to get to know me and see that I am like them, said Stefanos, to add that due to the treatment he received, he often became aggressive towards his classmates. , but also to his parents. He even had a fight with a classmate once and due to the complaints made by his parents towards the school management, he was forced to change schools. In the second school he faced similar problems to the point of asking his parents not to show up at school at all. In high school he was even forced to say that he comes from a single parent family and only then did the teasing stop. However, he notes that it is one of the things he regrets and that today he recognizes that there is no difference in his own family compared to the rest.
The complaint
"All I want is for the Republic of Cyprus to finally recognize us as a family and for homosexuals to be given the right to adopt in general," Stefanos said when asked what he expects from the state. He added that all these years homosexuals, men and women, have suffered a lot because of the discrimination against them and this must change. He even noted that especially in the issue of adoption a solution should be found immediately because, according to him, it is unacceptable to have millions of children around the world growing up in orphanages, at a time when people who are willing to open their arms to them they can not do it because of their sexual preferences. Homosexuality is not contagious and we must finally break free from the stereotypes of the last century, said Stefanos, who could not leave the recent event with blood donation, where according to instructions, gay men can not give blood. This practice may have changed following the instructions of the minister, however, according to Stefanos, this is a small sample of the discrimination that his parents experience every day and consequently himself.