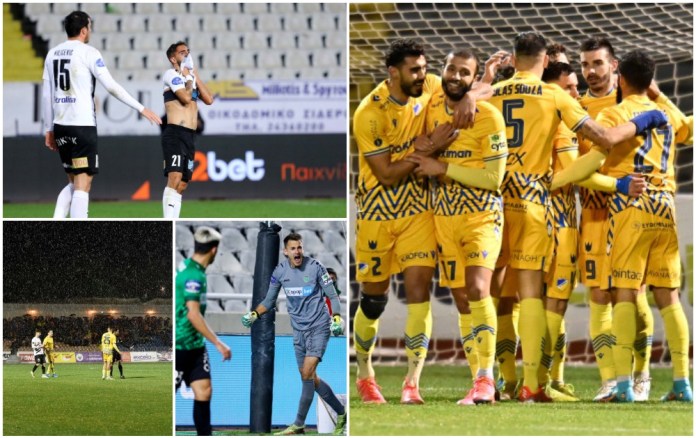 Two of the four pending issues of the 15th match were completed with the anxiety being at its peak regarding the battle of the six!
APOEL stood at its height and took the victory against the ΠΑ taken PAEEK that lined up in Makareio with 13 (!) Players. In fact, the blue and yellows took a decisive step not only to stay in the first group, but also to climb to the highest positions in the standings.
From there on, AEK continued to be… uncorrected and left two points in the GSP, while Olympiakos got a boyish point which will significantly help the team stay away from… trouble!
Tomorrow (10/2) the action continues in the context of the same match with two great games that will also shed more light on both the title fight and the six. Apollon as a typical home team will welcome AEL, with the blue and whites wanting to take a decisive step for the title, while the blue and yellows want the three points to return to success.
At 19:00, Anorthosis welcomes Aris, in another crucial game for the battle of the six, since the "Lady" wants to leave Omonia at all costs.
The rating:
Apollo 41 (19)
AEK 36 (20)
Mars 35 (19)
APOEL 33 (19)
Paphos 29 (19)
Anorthosis 28 (18)
Omonia 28 (20)
AEL 21 (18)
Olympic 19 (19)
Glory 18 (19)
PAEK 13 (18)
National 12 (20)
Tomorrow's games (postponed for the 15th game):
Apollon – AEL 17:00
Anorthosis – Mars 19:00
H MAXH THS EXADAS
The three games of APOEL (33): AEK (inside), Anorthosis (inside), Omonia (outside)
The three games of Paphos (29): Ethnikos (out), Doxa (out), Aris (out)
The four games of Anorthosis (28): Aris (inside), Olympiakos (inside), APOEL (outside), Apollon (outside)
The two games of Omonia (28): Aris (out), APOEL (in)